**English Below** Hieronder een overzicht met de meest gestelde vragen over zingen bij het Erasmus Studentenkoor Rotterdam. Staat jouw vraag er niet tussen? Twijfel niet en mail je vraag naar ons e-mailadres studentenkoor.eur@gmail.com
>Hoe word ik lid van het koor?
Eén of twee keer per jaar (in september en januari) houden wij open repetities. Iedereen die geïnteresseerd is in zich aansluiten bij ons koor kan dan twee keer vrijblijvend meedoen met onze repetities en een gevoel krijgen van hoe het er wekelijks aan te gaat. Na deze open repetities kun je je aanmelden en mag je een voice-test doen met onze dirigent. Daar wordt bepaald of je je kan aansluiten bij ons koor. 
>Kan ik me nu aanmelden voor het koor?
Momenteel zijn we een koor van bijna 40 meiden en zitten we aan de maximum van onze capaciteit. De volgende open repetities zullen plaatsvinden in September 2022.
>Moet ik auditie doen?
Na de open repetities vinden onze voice-tests plaats. Hier wordt gekeken naar je stembereik, gevoel voor harmonie en of je bladmuziek kan lezen. Het kunnen lezen van bladmuziek is echter geen vereiste.
>Is het koor alleen voor Nederlandstalige studentes?
Nee, iedereen is welkom bij ons koor! De voertaal tijdens repetities en officiële berichtgeving, zoals onze wekelijkse e-mail, is Engels. Dus internationale studenten kunnen zich ook bij ons koor aansluiten.
>Hoe vaak treedt het koor op in een jaar?
Dit hangt natuurlijk deels af van de hoeveelheid aanvragen en mogelijkheden die wij als koor krijgen. Wel doen we jaarlijks mee aan de Culturele Avond van SG Erasmus op de Erasmus Universiteit en sluiten we het seizoen af met ons eigen Zomerconcert. Gemiddeld treden we tussen de 4 en 6 keer op in een jaar.
---
Down below you can find an overview of the most frequently asked questions about our choir. Is your question not on this page? Don't hesitate and send an e-mail to studentenkoor.eur@gmail.com
>How do I become a member of the choir?
Once or twice a year (September and January), our choir hosts open rehearsals. Everyone interested in joining the choir can come to these open rehearsals and experience what it is like to be a part of our choir and have a taste of what goes on during a rehearsal. After these open rehearsals, you can apply for the choir. Then we'll schedule a voice test with you and our conductor. There is decided whether or not you can join the choir.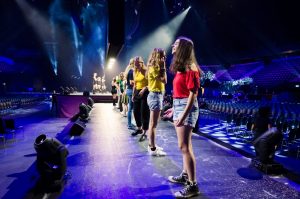 >Can I join the choir right now?
Right now we are with a total fo almost 40 girls and at the limits of our capacity. The next open rehearsals will take place in September 2022.
>Do I have to audition?
After the open rehearsals, we will schedule a one on one voice test with you and our conductor. During this voice test we will look at your vocal range, sense of harmony and sheet music reading capabilities. It is not a requirement to be able tor had sheet music, but it comes in very handy!
>Is the choir only for Dutch-speaking students?
No, everyone is welcome at our choir. The spoken language during rehearsals is English, as well as the official communication via our weekly e-mail. So international students are more than welcome to join our choir too!
>How many times does the choir perform in a year?
This depends on the amount of requests/possibilities there are, so it can change every year. However, we participate yearly in the Cultural Evening bij SG Erasmus at Erasmus University and we end the season with our own Summer Concert! The average amount of performances is between 4 and 6 every year.