*English below
Onze dirigent, Robert Verheul, werd in 1970 te Rotterdam geboren. Op 11-jarige leeftijd begon hij met het spelen van akoestisch en elektrisch gitaar. Hij volgde lessen bij Mike Williams, Makis Amblianitis en Ratko Zyaca. Tijdens zijn studie biologie te Utrecht vertrok hij naar Athene, waar hij 5 jaar lang woonde. Hij trad jarenlang op als zanger / gitarist / bouzouki-speler in de Griekse Rebetika (een soort underground "Griekse" blues uit het begin van de 20e eeuw).
Na het afsluiten van zijn studie biologie als paleontoloog studeerde hij 2 jaar Grieks-Byzantijnse zang (kerk- en volksmuziek) aan het beroemde Simonas Karras Instituut te Athene.
Na terugkomst in Nederland studeerde hij in de periode van 1997 tot 1999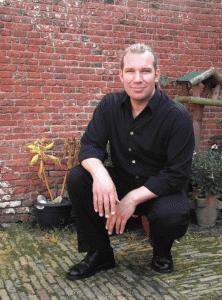 een jaar gitaar en een jaar zang aan het Rotterdams Conservatorium.
Na 2 jaar conservatorium koos hij ervoor zijn studie zang te vervolgen middels privélessen bij Alberto ter Doest (tenor in het Nederlands Kamerkoor en welbekend zangcoach) en Christina Vtl (leerlinge van o.a. Roberta Alexander). Ook volgde hij 2 jaar pianoles bij Bernhard Touwen.
Het dirigeren van koren doet Robert sinds 1999. Na een cursus koordirectie bij de Kurt Thomas Cursus te Utrecht, alsmede een cursus koordirectie en privélessen bij Niels Kuijers, begon hij als dirigent bij het gemengd koor After Eight te Rotterdam.
Op het ogenblik dirigeert hij de gemengde koren "After Eight" en het "Gemeentekoor Schiedam", de vrouwenkoren "The Green Forest Selection" en het "Erasmus Studentenkoor Rotterdamsch Schoon", het mannenkoor "Shantykoor Ahoy" en het klassieke "Vocaal Ensemble Kralingen" in welk hij zelf lage bas zingt. In 2014 leidde hij het projectkoor en -orkest Rosette tijdens uitvoeringen van het Axion Est­ van Mikis Theodorakis (met solist Pieter Hendriks).
Robert volgt lessen koordirectie bij Wiecher Mandemaker (leraar koordirectie CodArts Rotterdam en artistiek leider / dirigent van het Laurensorkest, Laurens Collegium en de Laurens Cantorij).
---
Our conductor, Robert Verheul, was born in Rotterdam in 1970. At the age of eleven, he started playing electric and acoustic guitar. He followed guitar lessons from Mike Williams, Makis Amblianitis and Ratko Zyaca. During his biology study, he moved to Athens in Greece, where he lived for five years. He performed for years as singer, guitarist and bouzouki-player in a Greek blues band 'Rebetika'.  After finishing his studies he studied Greek-Byzantine vocals for two years at the well-known Simonas Karras Institution in Athens.
After returning back to the Netherlands he specialized his vocal abilities as well as his guitar skills at the Conservatory in Rotterdam. After his second study year in 1998, he began developing his vocal abilities even further with the help of Alberto ter Doest (tenor in 'het Nederlandse Kamerkoor' and famous singing coach) and Christina Vtl (students of Roberta Alexander). Furthermore, he took piano lessons of Bernard Touwen. Currently, Robert is taking lessons in choral management from Wiecher Mandemaker.
Robert is conducting choirs since 1999. He started as conductor at the choir 'After Eight' in Rotterdam after following the courses Choral Conducting from Kurt Thomas and Niels Kuijers.
At this moment he is directing several choirs: the mixed choirs"After Eight" and "Gemeentekoor Schiedam", the femal choirs "The Green Forest Selection" and our choir "Erasmus Studentenkoor Rotterdamsch Schoon", as well as the men choirs "Shantykoor Ahoy" and "Vocaal Ensemble Kralingen". In 2014 he conducted the choir and orchestra Rosette during the performance of Axion Est from Mikis Theodorakis (solist Pieter Hendriks).